Dallas Academy offers unique learning tools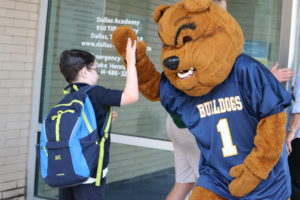 North Texas Giving Day is turning 10 years old and there is a lot to celebrate, including the many White Rock Lake area nonprofits. One of these nonprofits, Dallas Academy, is participating for its third year.
Many in the East Dallas community are aware of the presence of Dallas Academy at the corner of Buckner and Tiffany Way, but few truly know what makes this gem of a school so special. Nestled along White Rock Lake stands a private, independent co-ed school offering a rich history of 52 years of experience teaching students with learning differences in grades first through twelfth grade. Dallas Academy provides a structured, multisensory program for students to achieve success in and out of the classroom. There's a unified effort among faculty and staff to uphold the mission statement of connecting with each student to overcome barriers to success. The teacher-to-student connection is what makes Dallas Academy unique. The education is multi-faceted because of the small class sizes, which allows teachers the opportunity to give students individualized attention while helping each student to discover their unique gifts and abilities. It's a special environment when teachers can speak to each student's performance and collaborate based on their individual progress. "We are able to grow the whole student — academically, emotionally and socially," said Senior English teacher Melissa Garcia. 
As an independent private school, Dallas Academy relies exclusively on tuition, grants and their annual fund appropriately named, "Bridge the Gap." When a family begins the discovery process at Dallas Academy, eventually there is a realization of the significant financial investment required for attendance.  There are times when they are not financially able to commit to the entire tuition amount and as a result, the private school education is not in-reach of many students. "It's heartbreaking when there are times that we as a school have to turn down a family due to financial constraints. The goal is to be able to offer the opportunity to as many families as possible who have been impacted by learning differences," said Dr. John Hill, headmaster. Contributions from North Texas Giving Day and the Annual Fund keep tuition at a level that is affordable while also supporting the financial costs of providing the programming.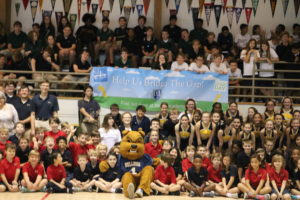 North Texas Giving Day is vital to the continuing success of the school and advancing its mission. Every donation directly supports the specialized academic programming and unique learning opportunities that Dallas Academy provides each and every student. 
Their goal is to reach 100 percent participation by Dallas Academy friends, families, staff and Board of Trustees. All donations go further on North Texas Giving Day because donations up to $10,000 made on Sept. 20 at NorthTexasGivingDay.org are amplified by bonus funds and prizes. 
Please join Dallas Academy in helping every deserving child reach their full academic potential by donating to Dallas Academy on North Texas Giving Day.