Free field trip adventures require donations
By Juliette Coulter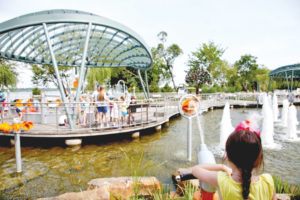 North Texas Giving Day is turning 10 years old and there is a lot to celebrate, including the many White Rock Lake-area nonprofits that participate. One of these nonprofits, the Dallas Arboretum and Botanical Garden, is participating again and needs your help. 
Located on the shores of White Rock Lake, the Dallas Arboretum and Botanical Garden is considered one of the most beautiful and top display gardens in North America. This nationally recognized garden has changeable displays four times a year, providing breathtaking color for visitors all year long, including a record one million visitors in 2016 and 2017 from all 50 states and more than 90 countries.
In addition to being a top display garden, the Dallas Arboretum is focused on education, especially for the more than 100,000 children who attend field trips in the main garden and the 8-acre science Rory Meyers Children's Adventure Garden, which celebrates its fifth anniversary this fall. 
The Dallas Arboretum needs the community's support as we equip more North Texas children with the essential knowledge, thinking skills and academic confidence they need to triumph in science class. Your gift will help us provide eye-opening field trips, supportive after school programs, outreach programs, summer camps and many other exciting STEM education opportunities for K-6 students, plus professional development workshops for local teachers.
At minimum, 32 percent of the students the Dallas Arboretum serves are from Title I schools, or schools that serve a disproportionate number of students from low-income families. 
Your North Texas Giving Day donation will ensure that our team can deliver quality STEM programming to children regardless of their background or financial capacity. From bus transportation to discounted admission, the Dallas Arboretum raises funds to ensure that these students have the opportunity to learn about nature and science outdoors. 
One garden in particular, the Rory Meyers Children's Adventure Garden, has served as a popular school field trip location. 
Since it opened in 2013, more than 1.7 million adults and children have visited or attended field trips at a place "where science and fun become one."
With 17 indoor-outdoor galleries designed for science learning objectives, the Children's Adventure Garden is revolutionizing the landscape of interactive learning through a unique blend of innovative technology, 150 interactive exhibits and natural elements. The displays revolve around STEAM—science, technology, engineering, art and mathematics. 
"With the addition of the Rory Meyers Children's Adventure Garden, the Dallas Arboretum Educational Department has been able to increase and expand our educational offerings to more than 150 programs and lessons that include onsite field trips, in-school classrooms, afterschool programs and professional development," said J. Mark Wolf, Dallas Arboretum board chairman. 
The Dallas Arboretum is setting the gold standard for outdoor children's facilities with this garden — one of the only children's educational gardens of its scope in the world. 
The Children's Adventure Garden is a premier educational facility focusing on K-6th grade life and earth science based on the state of Texas curriculum standards. Programming provides enriched science and STEM experiential learning opportunities to enhance student learning. Concepts include photosynthesis, pollination, the solar system, erosion and energy. 
All donations go further on North Texas Giving Day because donations up to $10,000 made Sept. 10-20 at NorthTexasGivingDay.org are amplified by bonus funds and prizes.
The 10-day run-up culminates in the main attraction, North Texas Giving Day, on Sept. 20, highlighted by an avalanche of online donations from 6 a.m. to midnight. 
So, get up and give to the Dallas Arboretum on Sept. 20 on NorthTexasGivingDay.org.