Single tickets are available today for The Dallas Opera's 65th Anniversary Season, opening Saturday, Oct. 8. The 2022/2023 season features four new-to-Dallas productions of works not seen on the Dallas Opera stage in more than a decade, world-renowned soprano Ying Fang in recital, family-friendly programming and the groundbreaking Hart Institute for Women Conductors Showcase Concert.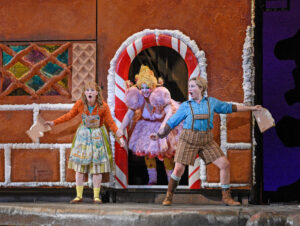 "Music Director Emmanuel Villaume and I are eager to share this special anniversary season with North Texas audiences," said Ian Derrer, The Kern Wildenthal general director and CEO. "It's been many years since TDO presented these operas and the upcoming productions bring the stories and music to life like never before."
Derrer added, "For those not able to join us live at the Winspear Opera House, we are excited to announce that you will have viewing opportunities through our online streaming platform thedallasopera.TV."
Single tickets start at $19 and can be purchased online at dallasopera.org or by calling Patron Services (Mon-Thur., 10 a.m.-5 p.m.) at 214-443-1000. 
The Mrs. Eugene McDermott Music Director Emmanuel Villaume will conduct three productions throughout the season: Verdi's "Rigoletto" (Oct. 8-16, 2022), Humperdinck's "Hansel and Gretel" (Oct. 28-Nov. 5, 2022), and Wagner's "Das Rheingold" (Feb. 10-18, 2023). Hart Institute for Women Conductors alumna Elizabeth Askren will take the podium for Mozart's "Così fan tutte" (Mar. 24-Apr. 1, 2023) in her Dallas Opera debut.
Single tickets are also on sale for The Robert E. and Jean Ann Titus Family Recital featuring soprano Ying Fang and pianist Ken Noda (Jan. 15, 2023), "The Hart Institute for Women Conductors Showcase Concert" (Jan. 28, 2023), and two family productions: "The Billy Goats Gruff" (Oct. 29 and Feb. 5, 2023) and "The Elixir of Love" (Nov. 6 and Mar. 25, 2023).
Additional programming and ticket options will be announced at a later date.
The annual, free People's Choice Concert will be held on Saturday, Oct. 1 at 3 p.m. at the Winspear Opera House. Stayed tuned for registration details closer to the event.