By Judy Babb
White Rock Lake calls to many people. Some people run or cycle there daily. Others find respite on its benches and docks or rowing with a crew team or sailing alone or with a friend. It's a beautiful refuge that provides peace and quiet as well as recreation.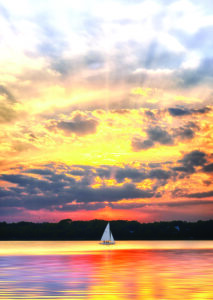 It has a special call for photographer David McGhee. He has taken more than 50,000 images at the lake, all of them special. He doesn't keep the so-called bad ones, not that there are many. He has a photographic eye although sometimes he surprises himself.
McGhee, who lives near the lake, doesn't plan his visits. Some days he wakes up and points his cream-colored Mini Cooper to a parking lot by the lake. He unfolds himself from the car, picks up his camera of choice, a Nikon, and the lens he's chosen for the day and uses his photographer's eye to capture what is there that others often miss. 
Until they see his work. Or more exactly, one of his passion projects — White Rock Lake.
"I have a lot of projects," he said. "And White Rock is the one I'm putting all my energy in now." There is an as yet undetermined plan to show a lot of work at the Bath House Cultural Center. 
He has a long list of clients, including PBS, Food and Wine Magazine, the American Heart Association and the United States Department of Defense. His job with them is to create their vision. He is appreciated. 
Karen Moore, art director with the American Heart Association, spoke of his vision.
"His shots capture the moment we wanted and some we didn't know we wanted until we saw [what] his vision captured on the screen," she said. 
Kevin Miller, creative director and partner with Signature Advertising, spoke of his 20-year relationship with McGhee. "David is passionate without pretense, a tireless worker and a wonderful collaborator," he said. "He has never stopped impressing me."
He also has a long list of awards.
The moments he enjoys the most are the times he can work on his passion projects. In addition to White Rock Lake, his other endeavors include a four-year stint at the now-closed Doug's Gym, and his photos from Europe. 
He speaks highly of Doug Eidd, who is now 91 and retired from the gym. But his photos, available for viewing at facebook.com/DavidMcGheePhotography tell the story of how much he appreciates Eidd's character. It also showcases McGhee's fabulous use of black and white to create the feeling of the era, which started in 1962 when Eidd bought the gym. The gym closed four years ago when the landlord demanded it.
"That guy has so many stories, it's amazing," McGhee said. "He gives you advice that you won't need for another 10 years. You're like 'what?'"
But now McGhee's heart belongs to White Rock. And what he sees is truly unique. 
McGhee ends up at the lake frequently. Sometimes, he'll be on his way home from a shoot or other outing and the lake calls to him. It doesn't matter the time of day. It isn't about the "golden hours." Whatever he decides to shoot becomes golden.
McGhee laughs at people who want to be photographers and invest heavily in expensive camera equipment only to put it on eBay a year or two later. He laughs because he knows what he's doing. He doesn't rely on a particular lens and, in fact, challenges himself to use a lens he hasn't used in a while. For those interested, he only uses prime lenses. Zoom lenses are not part of his repertoire.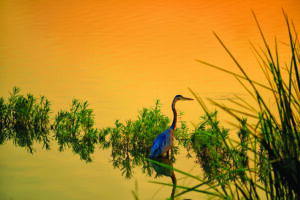 He enjoys wide angle lenses, ones that allow him to get the expanse of the lake or of an area he is shooting. But he also makes other lenses sing. 
His interest in art came early, as young as three. He was surrounded by art. He remembers having his own Instamatic camera not long after that.
Skip forward to high school. He became involved in video and broadcast, ultimately his major at Sam Houston State University. McGhee remembers his first faux pas with a camera in high school. He was lugging a Bell and Howell 16mm video camera. He dropped it. Fortunately, it was rugged enough to endure the fall. "It made such a horrible sound," he said. "I never want to hear that again."
He doesn't use a camera strap today. He finds it clumsy and awkward. If he loans a camera to friends, he requires they use the strap.
So back to his muse.
"White Rock Lake is my go-to place between commercial assignments," he said. "[I go] early mornings, or late afternoons to relax. Often with a camera to capture the ever-changing expressions the lake provides. The lake seems to have emotions of its own. More than just reflecting back the seasons or time of day, it shows the vibrations of Dallas."