By David Mullen
It was the summer of 1999, at Pasadena's famed Rose Bowl before 90,185 flag-waving fans, that the popularity of the U.S. Women's National Team (USWNT) became over the top.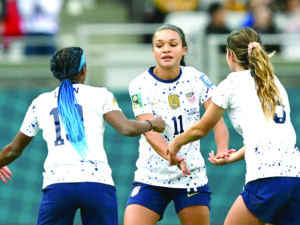 The attendance was a world record for a women's sporting event. An estimated 18 million Americans watched the TV broadcast of the 1999 FIFA Women's World Cup Final and peaked at 40 million.
The oppressive L.A. heat contributed to an intense 0-0 tie between the USWNT and China after 90 minutes plus extra time. The game — and the World Cup title — would be decided by penalty kicks.
China and the U.S. scored on their first two penalty shots. On China's third shot, Liu Ying's attempt was thwarted by USWNT goalkeeper Briana Scurry. China scored two more goals, and Kristine Lilly and Mia Hamm converted for the U.S. With the shootout tied at 4, it was up to Brandi Chastain for one final shot at glory.
Chastain beat goalkeeper Gao Hong, and the greatest moment in women's sports was captured for the ages. With the pressure over, an exhausted Chastain celebrated by removing her jersey and revealing her sports bra. 
It was a spontaneous split second of relief and rejoice acknowledged across a traditionally divided America. The "over-the-top" PG-13 image is the single most iconic moment in U.S. women's sports history. A devotion to U.S. women's soccer began en masse. 
Notwithstanding Chastain's game-winning goal and game-ending jersey shedding, this was a team victory for America. The U.S. populous became enamored with this team of unique and likeable athletes of different backgrounds and beliefs. With all due respect to the Dallas Cowboys, in 1999, an exceptional group of women became "America's Team" playing the world's game. 
"The USWNT has long featured dedicated, passionate and loyal support from women's soccer fans. Yet, the team's dominance has played a significant role in furthering women's soccer fandom outside this core group of long-time supporters," said Dr. Adam Beissel, associate professor of Sport Leadership and Management at Miami (Ohio) University and co-editor of the new book, The 2023 FIFA Women's World Cup Politics, Representation, and Management. Dr. Beissel is currently in New Zealand for the Women's World Cup.  
Twenty-four years and two more World Cup titles (2015, 2019) later, the USWNT is again trying to triumph. The Women's World Cup began on July 20 with Australia and New Zealand as hosts. Despite the return of known players like Alex Morgan, Megan Rapinoe, Julie Ertz and Kelley O'Hara, the roster is unfamiliar to many, with 14 players making their World Cup debut. A new head coach, Vlatko Andonovski, leads the favored USWNT squad Down Under.
"The USWNT has as many Women's World Cup titles as every other country in the world put together," Dr. Beissel said. "Their on-field dominance engenders a sense of 'American exceptionalism' in U.S. [sports] culture that is able to draw casual sport fans — some of whom aren't particularly women's soccer or even women's sport fans. Simply put, Americans love a winner, and there's been no more historically dominant U.S. national team in any sport than the USWNT. 
"At the same time, the USWNT has emerged as a highly visible and culturally significant part of U.S. popular culture," Dr. Beissel said. "The players' progressive politics on social issues like human rights, LGBTQ+ rights and women's rights high-profile campaign, and their activism on economic issues such as pay equity and workplace abuse, have endeared them to millions of Americans. Because of this, the nationalism and national identity expressed in supporting this team is perhaps unlike the typical American patriotism we see in other sports." 
On July 22, the USWNT opened the tournament with a 3-0 win over Vietnam in Auckland. "The traveling support in New Zealand," Dr. Beissel said, "is certainly remarkable given the extraordinary costs and dedication associated with traveling halfway around the world to support the team."
Corporations are spending their marketing money behind the U.S. team as well. June's "Roster Reveal" was presented by Allstate. The July 9 USA's Women's World Cup "Send-Off Match" in San Jose was sponsored by Visa. Frito Lay has made the USWNT a primary marketing push this summer.
But once the Women's World Cup is over, do women's leagues — like the National Women's Soccer League (NWSL) — begin to build traction, or do American's only care once every four years when patriotism wins over casual fans?
"Over the forthcoming decade, the U.S. sports industry is going to be profoundly shaped by the continued commercial growth and increasing popularity of women's sport such as the NWSL, the WNBA and Women's College Basketball," said Dr. Beissel. "For example, the slow and steady growth of the NWSL over the past decade has proven there is a viable market for women's soccer in the U.S."
According to Dr. Beissel, NWSL teams themselves have become hot commodities for investors and celebrities. "The Washington Spirit sold for a then-record $35 million in 2022 — only to be surpassed by a $150 million investment in a new team based in the Bay Area earlier this year. And teams like Angel City F.C. have become cultural commodities through creative marketing, celebrity ownership and innovative media content like their new HBO docuseries." Dr. Beissel expects further expansion and investment in the NWSL. 
"Support for the USWNT is a particular celebration of U.S. identity — one deeply enmeshed with the socio-cultural politics of the current moment," said Dr. Beissel. "In my view, the team's off-the-field undoubtedly furthers its appeal to large swathes of American sports-fans and non-sport fans alike. 
"The question has long been 'Can women's soccer sustain interest between World Cups?' I think we're starting to see that answered." 
Women's soccer took off when USWNT star Brandi Chastain took off her jersey and exposed more than chiseled ab muscles. She revealed that the U.S. can excel at a game played by great athletes worldwide, and America took notice.