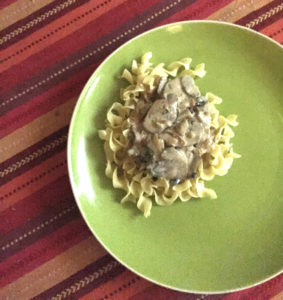 We like to have this as a side dish for grilled steak or pork chops — kind of a "deconstructed" version of the original.
2 tablespoons butter
20 ounces cremini or white mushrooms, sliced
2 cloves garlic, minced
1 cup chicken broth
1 cup sour cream
2 tablespoons chopped parsley
Cooked egg noodles, for serving
Salt and pepper
In a large skillet, melt the butter over medium heat. Add the mushrooms and cook just until wilted. Add the garlic and stir until aromatic, about 1 minute. Pour in the broth and simmer until the liquid is reduced by half. Remove the pan from the heat and stir in the sour cream and parsley, then season with salt and pepper. Serve over cooked egg noodles.