From Staff Reports
J.L. Long sixth grade Spring Soccer is in its 25th consecutive season and registration time is here! The league play is through the YMCA. The team is co-ed and open to anyone attending J.L. Long or any nearby school. Players can be of any skill level including beginners. Registration is now through February 10. The Spring teams first practice will be on February 9 and scheduled games will begin March 4.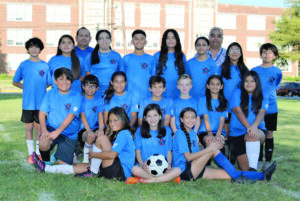 The team will consist of more than 14 players. Everyone will have a chance to play. The team practices are at Randall Park (Willis Winters Park) across from Woodrow Wilson High School from 4:30-6 p.m. on Tuesdays and Thursdays. Games are mostly played on Saturdays. Under UIL Rules, sixth grade students cannot participate in school team sports, so this is a fantastic opportunity for children to stay active. This Spring, fifth graders from the feeder pattern schools are invited to play as well. If enough players sign up, two teams will be formed this spring.  
The cost is $85 for Y members and $135 for non-Y members through the White Rock YMCA or interested participants can register with the Richardson YMCA where the cost is $80 for Y members and $100 for non- members through February 10. The White Rock YMCA is offering uniforms with their registration, the Richardson YMCA is not. Scholarships are available.   
To register, go in person to the White Rock YMCA at 7301 Gaston Ave. in Dallas and register under J.L. Long Buccaneers or register online at either the White Rock or Richardson YMCA. For more information, contact Victor Aves at 214-616-0194 or [email protected] or the White Rock YMCA at 214-328-3849 or Richardson YMCA 972-231-3424.