By Olivia Rathle
Dallas 24 Hour Club welcomed 200 guests to its second annual Tea for Recovery, co-chaired by Dr. M. Joan Terry and her daughter Rev. Tiffany Wright, on Thursday, May 4, at the Dallas Woman's Forum. The event benefited Residents of Dallas 24 Hour Club, which has been providing transitional living, support services and essential life skills for homeless alcoholics and addicts, so they can embrace long-term sobriety and become contributing and self-supporting members of the community since 1969.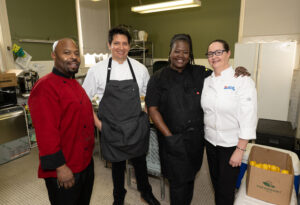 The idea of Tea for Recovery was brewed in 2022 as a way to blend a love of high tea and a passion for the mission of Dallas 24 Hour Club. Dr. M. Joan Terry and her daughter, Rev. Tiffany Wright, knew the mission of Dallas 24 Hour Club was one they wanted to support after having a loved one come through the program. Tea for Recovery is now an annual event that creates a charmingly unique way to support the Residents of Dallas 24 Hour Club. 
This year's Tea for Recovery kicked off with Dr. Terry and Rev. Wright welcoming attendees, followed by an inspiring invocation by Rev. Wright. With concurrent programs on two levels in the historic Alexander Mansion, Marsha Williamson, CEO of Dallas 24 Hour Club, kicked off the program on the first floor and shared more about The 24 and its programs.  
Williamson shared that in 2022, The 24 helped more than 600 individuals get off the streets, find employment, reconnect with family members and embrace recovery, all with a 31 percent success rate. Williamson noted that addiction affects not only the individual, but all of their family and friends as well, so it's an absolute joy for everyone at The 24 to see families reunite. 
Williamson then introduced alumna Stephanie Crawford, who shared her experience about the programs and support offered by The 24 and how this impacted her life. Crawford spoke about the vulnerability of being a homeless woman and how her life changed the moment she stepped foot in Dallas 24 Hour Club seven years ago. During her moving testimony, Crawford expressed her gratitude to Williamson and The 24 for helping her reunite with her daughter and find peace in her life.
Simultaneously on the second level, Dallas 24 Hour Club Development Director Adrienne Santaularia welcomed the audience and shared a similar message about The 24 and its success in the community. She then invited Valerie Niebrand to share her testimony about her experience going through the program and her life now. 
During the powerful testimonials from these former residents, guests enjoyed an elegant luncheon featuring a variety of tea sandwiches and quiche, along with delicious desserts. This year's culinary team included Chef Jason Martin, Chef Shon Johnson-Tripp, Chef Eric Dreyer and Terry Kranz.
Along with fundraising success, Tea for Recovery provided an opportunity for the female residents who were in attendance to enjoy fellowship with The 24's family-like community and have sober fun. Prior to the event, the women were treated with a gift card to shop for tea attire at Ross Dress, so they could step into the event in style!  
For more information about Dallas 24 Hour Club, visit dallas24hourclub.org.