By Blanca Reyes
"You feel like at home," Amilka Fuenmayor, a server at JJ's Café, said. "The smell of the coffee is different here."
JJ's Café was born 13 years ago after Jose Ramirez and his wife, Josefina Orozco (hence JJ's), bought the property that used to be a coffee shop. "I took it over, and then made it into JJ's. I brought in my recipes, I remodeled, and I made all the changes" Ramirez said.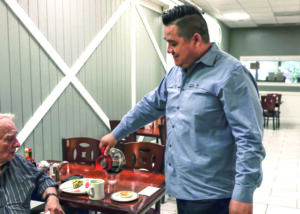 Ramirez, originally from California, moved to Dallas in 2010 and dreamed of opening a restaurant that offered his favorite meal — brunch. That dream came true with JJ's, and now gives him the opportunity to work during the day and in the evening at his catering and event venue, which is next door.
Ramirez started working in the industry when he was in high school, and his friend, who was a chef, invited him to work with him.
"I love being in the restaurant business because I love customers. I love to see different faces and I love to see them happy for getting the food," Ramirez said.  
JJ's Café serves breakfast and brunch inspired from traditional recipes from different regions of Mexico. According to Ramirez, his best seller on the savory side is "chilaquiles," which is one of the most popular brunch dishes in Mexico, and "Tres leches" pancakes, for those who prefer to have something sweet in the mornings.
"'Chilaquiles' are tortilla chips sautéed with onions and smothered with red or green sauce, topped with sour cream and cheese and served with beans, rice and potatoes, and you can add steak or chicken. And it comes with two eggs," Ramirez said.
JJ's is a neighborhood restaurant, and most of the people who eat there are families who have come in for years. One of the most rewarding things for Ramirez (pictured) is to see little children coming to eat here with their parents, and then growing up and coming back with their own families.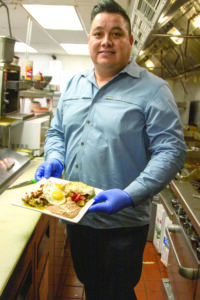 "The job here is not only to take an order; it's more. It's to ask the people how their day is or how they are," Fuenmayor said. "It's about asking if they need a strong expresso or something lighter, depending on what they are going to do during the rest of the day." 
One of those loyal customers is Don Hoogland, who has been eating breakfast at JJ's Café for the last 13 years. Hoogland said that he is with a breakfast group who meet at JJ's every Tuesday morning. The group has been together more 30 years and enjoy the great food and the personal service Ramirez gives them. 
"He is a real nice guy, good guy. And he runs a good business here. Coming here ever since he opened," Hoogland said. According to Ramirez, JJ's Café kitchen makes more salsa that any taqueria in the area.
The support from loyal customers is shown daily when they come to enjoy their breakfast or lunch, but the people from the community also demonstrated their love for Ramirez's business when the pandemic hit. According to Ramirez, there were some customers who sent checks to him to help financially during the quarantine. 
This support and the "family pack meals," which JJ's Café offered during the shutdowns, helped Ramirez survive the downturn in business caused by COVID-19.
Ramirez also knows the importance of giving back to his community. JJ's Café and some of its loyal customers feed 50 families from the neighborhood every year during Thanksgiving.
"I love doing that because, at one point, I was one of those recipients. So, I love giving back to the community and I know there are a lot of people around here who need help," Ramirez said.
For Ramirez, owning and running JJ's Café is more than a job — it's his passion and his customers are his inspiration. Ramirez' persistence is what has made JJ's Café what it is today — a clean, fresh place where families can gather to enjoy traditional breakfasts and brunches made from scratch. "A family restaurant makes a big difference. I love what I do," Ramirez added.
JJ's Café is located at 10233 E. Northwest Hwy. in Dallas, and is open from 7 a.m.-2 p.m. Mon.-Sat. and Sunday from 7 a.m.-3 p.m.