By Blanca Reyes
When Norma Rocha Valles saw the devastation the fire left at her beloved restaurant, Casita Tex Mex, she was in utter shock.
"I couldn't believe it. It was like taken from a movie scene," Rocha Valles said.
Around 9 p.m. on Dec. 27, 2020, Rocha Valles told her employees to go home earlier because it was close to the end of the year. An hour or two hours later, she received notification from the fire department. She rushed to Casita with her daughter Lauren Valles. Her beloved restaurant had been destroyed by flames.
Rocha Valles did not let the fire to burn her dreams, though. She called her insurance company and then got busy creating a food truck to serve from, so the community would know that Casita would be back.
"We were able to overcome what we had already been challenged with, and that was no business [because of COVID-19]," Rocha Valles said.
Although it was a big difference from her running the restaurant to working out of a food truck, Rocha Valles said it was like reinventing herself and she enjoyed learning a different aspect of the industry. She was able to use resources from her local real estate investments to fund the food truck.
"So that also generated a little bit of income to where we could continue doing what we're doing to build back the restaurant," Rocha Valles said.
Casita Tex Mex also received help from the community throughout a GoFundMe.
Linda Lance is one of long-time customer of Casita Tex Mex for more than 11 years.
"Oh no! It's our favorite place to eat. Where are gonna go?," Lance said when she found out about the fire. So she set up the page to help her favorite Tex-Mex restaurant.
Two years later, Casita Tex Mex and the food truck are both open and running again thanks to Rocha Valles' entrepreneur spirit, her family and loyal customers who never gave up.
Rocha Valles never even thought she would have a restaurant. Casita Tex Mex has been under her ownership since 2007 and even though the restaurant has been open since the 60s.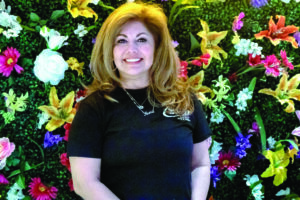 "I wanted to keep the same concept because we have customers [who have] come in for years. I wanted to keep that flavor because we need people to remember the flavors," Rocha Valles said. "You can always bring in new customers, but you can't keep old customers with new recipes with new things."
In 2013, Rocha Valles added new drinks and dishes to the traditional menu but keeping the original concept. She said that even though she has not much time to cook she learned from her mother who was an excellent cook. Rocha Valles' secret ingredient — love.
"My mom was a very good cook. So, I learned everything that I know to do by watching her," Rocha Valles said. "You don't measure, you just put pinches and you taste."
Rocha Valles, who love challenges, started to design the new interior of the restaurant including the tables after the fire.
"Those are the old tables. I came up with a new concept with a new idea. I had them take all the old tile off and put new tile on," she said.
Rocha Valles is a songwriter and singer, too, and she has a show in Casita Tex Mex on some Saturdays, where she performs and customers can enjoy songs from different genders and time. Rocha Valles said she wants to have a show every Saturday soon.
She said that she doesn't seen herself retiring because, in her own words, working is her "addiction and passion."
"It's not good and it's not bad, but I love to work," Rocha Valles said.
With a renovated place but the same traditional recipes, Casita Tex Mex is open to new and loyal customers to enjoy its most famous dishes and drinks, like its enchiladas, shrimp Sadie and veggie fajitas. People can also enjoy the signature drink that are the traditional margaritas from a recipe that has been around for more than 50 years. The other signature drink is Norma's lemonade, made with fresh squeezed lemon juice and vodka.
For reservations or information call 214-750-5441. Casita Tex Mex is located at 5807 Blackwell St. in Dallas and is open every day except Mondays.