1 large or 2 small Honeycrisp apples, cut into 1/2-inch wedges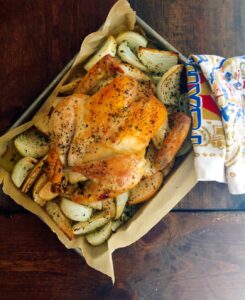 2 medium onions, cut into 1/2-inch wedges
1 (3- to 4-pound) roasting chicken, giblets removed
3 sprigs thyme, minced
1 tablespoon whole grain mustard, optional
Oil, salt and pepper
Heat oven to 450F. Line a baking pan with parchment. 
Scatter the apple and onion wedges evenly on the prepared pan. Drizzle with oil and toss to coat. Season to taste with salt and pepper and toss again. Push to the edges of the pan. 
Rub the chicken with oil and season to taste inside and out with salt and pepper. Place on the pan. Sprinkle minced thyme over all. 
Transfer the pan to the oven and immediately reduce the temperature to 375F. Roast until a thermometer inserted in the thickest part of the thigh reads 180F. Let stand 10 minutes. 
Remove chicken to a serving platter. Gently stir mustard, if using, into apples and onions. Spoon mixture around chicken and serve immediately.