By Shari Goldstein Stern
Six queens, each with a juicy story about her former husband, Henry VIII, tells hers with spicy detail in over-the-top vocals and out-of-this-world dance numbers. They rock to the music of the remarkable, Tony Award winner for the 2021/2022 Broadway season's Best Original Score (Music and Lyrics), "Six." With 23 nominated and winning awards to its credit, the rocking musical can be enjoyed now through December 25 at the AT&T Winspear Opera House, brought to town by Broadway Dallas (formerly Dallas Summer Musicals).
With six highly energetic, precise dancing queens belting out contemporary, remarkable songs with daunting lyrics, the cast is the real deal. How do you cast six diverse, triple-threat women who simultaneously complement and contradict each other, coming up with a couple of oh-so-big mamas, and it works? The energetic, larger dancers don't miss a beat while performing with dancer-bodied women half their size. Each queen is a pleasure to watch and hear, and each owns her unique, engaging, albeit odd character. 
Henry VIII lived from 1491-1547. He was King of England from April 1509 until his death in 1547. History remembers Henry as the husband to six queens, each of whom suffered a tragic or inconceivable death. In looking back at his wedded life and political causes, he sounds like a real nice guy.
Amina Faye, as Henry's wife Jane Seymour, radiates talent from every pore. Try not to miss a lyric or beat of Faye's memorable performance. She continuously surprises. Terica Marie is one of the most gifted women to grace the Winspear stage as Anna of Cleves. She keeps the audience mesmerized with her slick moves and powerful voice.
These two show-stopping triple threats never let the audience forget that while all the stressors are "out there [outside the theater]," it is comfortable "in here [inside the theater]." 
Zan Berube is the image many share of Anne Boleyn, while Cecilia Snow's Catherine of Aragon brings precision and sass to the boards. Sydney Parra is a rocking Catherine Parr, with R&B riffs. Aline Mayagoitia plays Queen Katherine Howard, who was executed for treason. She failed to sign a "plain declaration before [marriage to the king] of her unchaste life."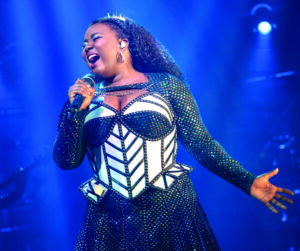 There is so much to say about the eyepopping costumes: mesmerizing, sensational, brash, sparkly. While mimicking the period's royal dress, costumes bear an uncanny resemblance to the futuristic, space-themed wardrobe on the popular 1960's TV series, "The Jetsons."
Inventive, thrilling, often surprising lighting and backdrops fill the stage with fluctuating, vivid colors of bright lights, while keeping six queens in the spotlight. 
Winner of 2021/2022's Tony award for best original score, music and lyrics of a musical, the non-stop upbeat pace is fresh and addictive, while the high-energy, uniquely choreographed dance numbers are beyond spectacular. 
In a three-letter word, "Six" is fun. It's a holiday must-see for live theater enthusiasts, and tickets are an excellent gift idea. There's no connection to any holiday, but while engaging in stressful, holiday activities and "chores," count on this show as a welcome respite (unless you think too hard about beheadings). Some shows that are new to you are enjoyable, but not immediately favorites. After 24 hours in this musical enthusiast's head, "Six" will be among top favorites, likely to be enjoyed again.