By David Mullen
When one thinks of a woman referred to as "The Gnarly Nurse," thoughts might gravitate toward Nurse Ratched (Louise Fletcher in an Academy Award winning performance) from the 1975 classic film "One Flew Over the Cuckoo's Nest."
But this nurse does not represent, nor handout, a bitter pill. She has found sanity on top of a skateboard.
Yuri Cruz, 29, known as "The Gnarly Nurse," has released a new skateboarding journal titled "Kickflips and Chill: Your Inspirational Guide to Becoming an Excellent Skater." A mostly self-taught skateboarder and two-time author, her book is an interactive guide designed to help readers master the fundamentals of skateboarding at a later age.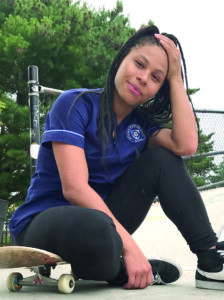 Cruz was born in Brooklyn and lives outside of Baltimore as a cardiac rehabilitation specialist with special emphasis on using exercise to lower blood pressure and prevent heart events. Inspired by her dad who was a nurse, Cruz, 29, is the middle of three children. She has two brothers and played sports as a teen but had never learned to skateboard. "Skateboarding is an amazing way to take care of yourself," Cruz said. Now she has written the book on it.
 In her mid-20s, Cruz was gazing from her friend's couch looking for something to take her mind off a difficult breakup. Cruz decided to find a healthy hobby. A quick search through Craigslist garnered her first skateboard and, at 25, she headed to a nearby park to learn the craft of "sidewalk surfing."
"I was going through a rough part of my life, and I wanted to do something for me," Cruz said. "I just had a random thought. 'I'm just going to start skateboarding!' There seemed like there was a great sense of community."
She quickly found out her Craigslist board did not cut it. "The first day I went to the park," Cruz said, "there was this group of people and I said, 'I will pay somebody to help me learn how to stay on this board.' And they said 'No. You don't have to pay somebody. It's cool. What do you want to learn?'
"So, they showed me how to push properly. And I wasn't flowing the way they were flowing, and it was because my board was so bad. So, they gave me their spare board and that's how I started."
As a nurse who sees injuries every day, the prospects of getting hurt did not stop her. "The crazy thing about it, that wasn't the first thing [injuries] that I saw," Cruz said. "Tony Hawk pro skating came to my head. All of the awesome tricks. That is why I went so hard when I started skating. I saw the possibilities, not the fear of getting injured."
From her book, Cruz recommends three basics tips for proper "shredding" this summer. "Buy the right board." I assume that does not mean from Craigslist. "Invest in the community and purchase from a local skate shop and get fitted with the proper board for your size and level. Learn to fall safely and don't be afraid of falling. You'll do it a lot! [And] Master the basics and create a list of tricks that you can easily perform and attain. Learn the 'Ollie,' the foundation of skateboarding, to eventually derive all further tricks." Ollie is not Stan's partner, but a trick in which the skater uses his or her feet to pull the skateboard up into the air.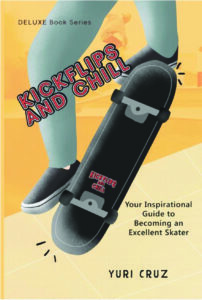 While learning skateboarding, Cruz also had to learn another language. "I started as a 'goofy-footed' skater," Cruz said, referring to a skater that rides with his or her right foot forward. She is now a "regular-footed" skater. "You hear it everywhere around the park. You hear 'stoked' and 'steezy' and 'gnarly' thrown around the skating community." 
"Stoked" is to be excited, "steezy" is a combination of "style" and "ease" praising an impeccably executed trick or maneuver and "gnarly" refers to an amazing trick or thing or apparently a nurse that writes books about skateboarding. 
In the 2021 Summer Olympics in Tokyo beginning on Wednesday, July 23, skateboarding will become the latest official Olympic sport joining baseball, softball, karate, surfing and sport climbing. Sports fans have the committees' want to attract a younger audience to the Olympic Games, the cultural influence of the website TikTok and the flood of boarders corralling empty streets during the pandemic to credit for skateboarding's newfound status.   
"I love it. It's inspiring to see that skateboarding has made it that far," Cruz said of a sport often looked down upon. "People judge you. I would love for the Olympics to shed a better light that skateboarders are a wide variety of people and it's an awesome community. There is not one type of person who is a skater." 
Cruz hopes to find a way to mesh her two loves of nursing people back to health and skateboarding into a future endeavor and remains a daily "thrasher" (an avid skater). All of her recent tattoos, a stereotype given to skateboarders, have "come from the ground," Cruz laughed. "I've got three skin tattoos and a skin graph."  
Having graduated from the park to skateboarding in urban Baltimore and Washington D.C and writing about it, Cruz said, "I feel that when I am on the board, everything else that is going on is insignificant in that moment. It is such a rush and such a thrill. It is so exciting, especially when you are close to landing certain tricks. It is such a freeing experience." In another word, Nurse Cruz finds it "gnarly."