By Kristi Bare
Wilkinson Center announces its annual campaign, Stock Up for Summer, has a goal of raising $100,000 to ensure that 3,500 children do not go hungry this summer.
Summertime is a historically challenging time for families — with children home and missing their school-provided meal. This year is no exception with rising food costs, rising rent prices and rising utility rates; families throughout the Dallas community are struggling to stay afloat. Parents are forced to make choices between purchasing food or paying rent, keeping the lights on or buying school shoes, putting gas in the car or purchasing diapers. This high inflation leads to rising stress and rising hunger. 
"Stock Up for Summer is Wilkinson Center's response to families grappling with rising costs and an uncertain summer. With the community's support we can ensure our pantry shelves and Pantry2Go truck are filled with kid-friendly foods for our neighbors who need them the most," said Anne Reeder, executive director, Wilkinson Center. "For more than 40 years Wilkinson Center has been on the frontlines of feeding our community. Through Stock Up for Summer we can continue to guide our families from surviving to thriving this summer."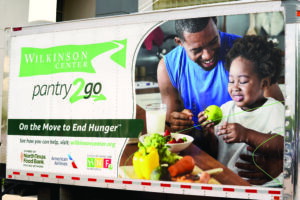 Now through August 31, the community can support Stock Up for Summer campaign in a variety of ways:
• By hosting a food drive to help us reach our goal of collecting 10,000 pounds of food: Conduct a food drive to help stock our Food Pantry. A great activity for families, schools, faith-based groups, corporations, scout troops and organizations, large and small. 
• Donate to the Virtual Food Drive by shopping our Amazon Wish List.
• Volunteer at the Food Pantry with tasks including stocking shelves, packing and distributing food boxes.
• Volunteer for the Pantry2Go Food Truck by distributing food boxes to families via a drive-through or doorstep event.
• Be a Summer Superhero by making a financial gift to help provide nutritious foods for kids, families and seniors.  
Stock Up for Summer is managed through Wilkinson Center's Food Pantry, located in southeast Dallas, and supports its Food and Emergency Services program. Visit thewilkinsoncenter.org/stockup for information.