From Staff Reports
Celebrate the Year of the Rabbit with NorthPark Center and the Crow Museum on Saturday, January 21. Lunar New Year celebrations generate excitement throughout the world, especially in Asia. Typically lasting about 15 days, Lunar New Year inspires the most important and festive holiday of the year.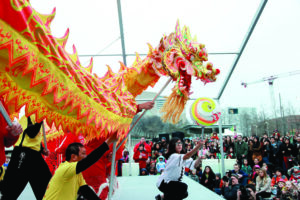 Lunar New Year is based on the lunar (moon) calendar and does not always fall on the same date. This year will begin on January 22, celebrating the Year of the Rabbit. Although different cultures celebrate the Lunar New Year in many different ways, many of the same customs include marking the new year by preparing special foods, wearing bright clothing, spending time with family and friends, watching lion and dragon dances plus other traditions meant to usher in a lucky and auspicious new year. This year, experience storytime with Park Cities Chinese School, live rabbits, lion dances, art activities and a special performance by the Dallas Asian Wind Symphony. The event runs from 9 a.m.-noon. NorthPark is located at 8687 N. Central Expy. in Dallas. For more information, visit northparkcenter.com.
The Crow Museum is one of only a handful of museums in the United States dedicated solely to the arts of Asia. The museum presents new research on the Crow's permanent collection and has become a showcase for works of art from renowned collectors, other museums and private institutions throughout the world. The museum also hosts numerous community events, seminars and workshops, as well as children's activities and cultural classes. A second location for the Crow Museum is planned to open on the campus of The University of Texas at Dallas in 2023 as part of a new Arts and Performance Complex. Visit crowmuseum.org for more information.