NORTH TEXAS GIVING DAY
By Alice Nalepka
September is National Recovery Month, a time to celebrate those in recovery and the organizations making a difference in the recovery community. In D/FW, The Magdalen House services stand out for alcoholics in every stage of recovery and for their dedication to shattering the stigmas associated with alcohol use disorder by educating the community about the disease.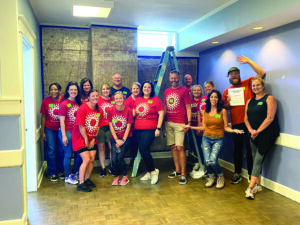 The Magdalen House was established in 1987 in Dallas, Texas by four alcoholic women who were looking for something different to help women recover from alcoholism. What makes The Magdalen House different is its unique structure to help any alcoholic achieve sobriety and sustain recovery at no cost and based on 12-step spiritual principles. 
With meetings and workshops open to all women and a program built on giving back to others in need, the agency is intuitively structured to help alcoholic women find purpose by connecting with the next alcoholic struggling to achieve sobriety.
Due to the tremendous need in our community and many requests from those who have experienced life-saving services through the women's programming, the nonprofit realized it needed to expand its services to also offer men suffering from alcoholism access to free, comprehensive services and a continuum of care. 
With one in seven men suffering from alcohol use disorder, there are an estimated 400,000 men struggling with alcohol in D/FW (based on the 2021 population of the D/FW metroplex). The agency launched its Men's Community Program — offering the same quality of services through 12 Step recovery meetings and workshops, Family Support Group, volunteer opportunities, Men's Community Group and fellowship events at no cost. 
Since launching the Men's Community Program on July 24, the program has seen steady attendance at meetings, volunteers helping prepare the men's space, chairing meetings and much more. The Magdalen House plans to launch its Next Step program for men in early 2024. The nonprofit has organized a volunteer group of 20 recovered alcoholic men who are helping get the men's program started. Marty Younkman joined, saying the men's program hit close to home, giving him the opportunity for personal growth that relates to his own struggles: 
"The program isn't about the man; it's a force that can uplift the whole community, showing that being recovered is possible and allows anyone suffering to join a journey to a new way of life."
The agency does not require insurance or accept government funding, making each individual donation vital to the success of the organization. Support The Magdalen House this North Texas Giving Day. Donations will be doubled thanks to pledged matches throughout early giving, Sept. 1-20, and on Giving Day, Sept. 21. Visit northtexasgivingday.org/organization/themagdalenhouse to make a donation.