By Eve Hodgkinson 
Public art installations across Texas are among the Top 100 finalists for a prestigious CODAaward, given to those who successfully integrate commissioned art into interior, architectural or public spaces. Public voting is open now until July 31.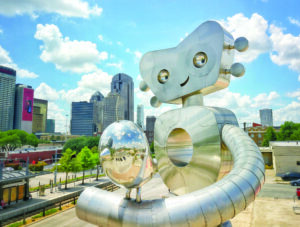 The two artworks that receive the most online votes will win a People's Choice CODAaward. Texas represents 13 percent of the Top 100 finalists in this international competition, with installations in Austin, El Paso, Dallas/Fort Worth, Houston, Huntsville and San Antonio. 
Vote for Texas artists, including Brad Oldham who created The Traveling Man, a monumental public art installation in Deep Ellum, at codaworx.com/codaawards.