By R. H. Lannen
Until recently, Japanese food in Dallas has not extended far beyond a selection of hibachi and sushi restaurants, leaving many craving for a more diverse representation of what Japanese cuisine presents. Simple and cozy, Waya Japanese Izakaya is in no way pretentious in its offering of an authentic Japanese menu and experience. The staff is incredibly warm and welcoming, treating you as a guest from the minute you pass through the traditional Noren, or curtain, into the restaurant. 
Offering everything from Japanese style curry to slow-cooked pork ribs, the restaurant runs the gamut of traditional flavors. 
The appetizers and small plates are plentiful, including a crispy yet juicy chicken thigh Karaage and a perfectly crafted (albeit, fried) spring roll. Despite all the options, the most satisfying dish was the plump and addicting pan-fried pork dumplings, dubbed Wing Gyoza. The peculiar title is a translation of the Japanese name for the meal, Hanetsuki Gyoza. The name does not refer to the filling; instead, it relates to the thin, crispy crust formed on the bottom of the dumplings that look somewhat like wings coming off of each gyoza. 
Another must-try is Waya's take on Japanese curry. Very different than Thai or Indian style curries that are widely available in East Dallas, Japanese curry is not a curry paste-based soup. Instead, it is a roux-based sauce (much like American gravy) usually served over steamed white rice. The veggie curry at Waya is dark and peppery, with a creamy finish and strewn with a plethora of fresh corn, edamame, red peppers and zucchini. 
Pork Ribs are a staple in any good izakaya, and Waya does not disappoint. Tender and falling of the bone, yet with a crunchy deep char on the outside, it is clear the chef put heart into perfecting the recipe. Found in multiple places on the menu, the Pork Ribs appear not only as an appetizer but also in one of their many ramen options.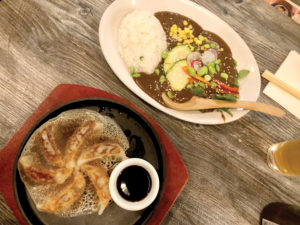 The ramen at Waya is rich and hearty with a delicious and bold flavor, which is incredibly filling, although somewhat heavy. The previously mentioned pork rib ramen is the star of the menu with a rich tonkatsu (pork) broth and a healthy serving of pork ribs floating in the soup. Also available is classic tonkatsu ramen with skinny slices of Chashu pork belly and mild yet delicious miso ramen with a mound of ground chicken and an unmistakably bold miso flavor. The noodles in each dish are incredibly supple and buttery, precisely what I am looking for in a ramen noodle. 
True to its name, Waya is a perfect representation of an izakaya, a casual neighborhood restaurant that serves a myriad of small plates, which pair perfectly with its selection of Japanese beer and sake. I recommend trying their variety of Kyoto beers from the Kizakura Company, something I have seldom had the opportunity to enjoy since visiting Japan. Having just finished their "soft opening" a few weeks ago, Waya has quickly found their footing and is even beginning to draw a crowd of regulars, myself included. 
Waya Japanese Izakaya
6334 Gaston Ave. Dallas, 75214
972-982-2103
Sunday 4-8 p.m. 
Tuesday to Saturday 5-10 p.m. 
Closed Monday