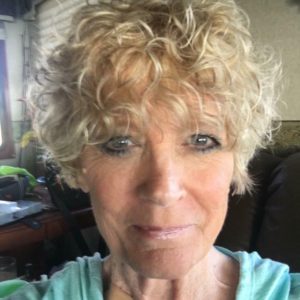 Serena Runyon Farmer is someone who epitomizes the best of social networking. She could be a poster face for Facebook (FB). From her epicurean dishes to gastronomic desserts, "Chef Serena" is a Bryan Adams High School (BA) 1967 alumna with a flair for the culinary arts. At her recent 50th BA reunion, her friends' faces lit up when she arrived. She's lived a vibrant life the past 50 years, which is well worth sharing. At any given time, friends, actual and rhetorical (FB), can read one of Serena's many posts, and she likes to engage in a "conversation." Serena's an earth mother whose posts are like reading an interesting journal.
Serena loved growing up in White Rock, where she attended school at Reinhardt, Gaston and BA. "I loved the diversity of learning opportunities at BA. I wanted to major in speech and drama. BA gave me the classes to learn so much about both from everyone's favorite teacher, Mrs. Francys Wall."
Serena and her husband (pictured above right), Rusty Farmer (BA '65), dated while at BA and got married 25 years later in 1992, with some colorful, often Nomadic history in between. Serena has had a diverse career that includes a marketing and catering director position for Pete Dominguez's five restaurants. From that experience she became self-trained in the culinary and restaurant industries. When the couple moved to Alabama, she worked in marketing and catering for a Greek seafood restaurant in Mobile. She was influenced to open her own restaurant. The couple moved back to East Texas and bought a country café.
"The Montalba Café was a typical hamburgers and chicken fried steak place, but we became well-known for great burgers and fried pies. We also offered catering," the restaurateur said. "At the time, we owned an 82-acre farm where we raised goats and made goat cheese. "In addition to all of that, I was a personal chef to a 'kazillionaire' for five years," Serena quipped.
In 2003, the Farmers closed the café due to the post-9/11 economy. They sold the catering business and Serena retired from her career as a chef. Rusty returned to the oil industry, and they moved to a smaller acreage home in Buffalo, Texas. Serena did consulting work from home and Rusty retired in 2014.
The couple fulfilled their retirement dream when they purchased an RV. They took delivery in Gulfport, MS and started their journey straight off the lot. "We got it on the road and traveled for 2 1/2 years, from Texas to Tennessee, to Alabama and all places in between," the spirited adventurer said.
"Our favorite places to stay are Bandera, TX and Chattanooga, TN.," the part-time driver added.  The couple also took a two-month road trip to Big Bend National Park and another to the Texas Hill Country last year.
Serena said six hours a day was their typical drive. Then they spent the night in the RV at a park, where they set up before dark. "Our current home base is Wind Point Park on Lake Tawakoni. We have been there since July 2017." Who is not envious? Show of hands.
"Life as a full time RVer is awesome. No yard work, no county or city taxes. If you don't like your neighbors you pull in your slides and move," the mover and shaker said.
Both Farmers have had more than their share of health issues. Serena was in and out of hospitals for most of 2015 and 2016 while she prepared for a liver transplant at UT Southwestern. She received the transplant on Feb 13, 2016.
"I am forever grateful for the donor family who made that courageous, compassionate decision to donate the organs of their loved one, which saved many lives," she said with a breaking voice.
"Rusty had bypass surgery, but he is now healthy and we're traveling again," she reported.
Serena has always been one of those precocious souls who can do everything she sets her mind to, and she's been successful at all of them. She and her many friends who live in brick and mortars stay in touch via FB. Close friend Lucan Nietmann Watkins said: "Serena and I have been friends since we met at Reinhardt Elementary School back in the 1950s. Although we lost touch after high school, FB brought us back together. We both have a love of Dallas history and we enjoy tracing her pioneer family back to early Dallas history."
The Farmers have between them four adult children and six grandchildren living in Mobile, AL and Chattanooga, TN.
"Our marriage has been 25 years full of adventures, good times and scary times, but we feel so very blessed that God chose for us to be together for life."
Serena and Rusty are right where they want to be. They just put the beloved RV in gear and can't wait to get back on the road again.