By Kimber Westphall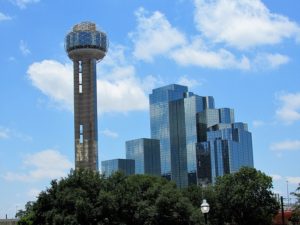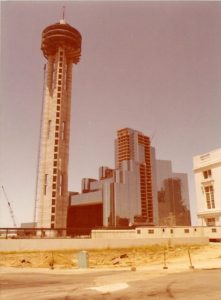 A special birthday celebration for the most unique place in town is set for April 14-15. Reunion Tower, the 560-foot icon of the Dallas skyline, celebrates 40 years of reigning over the town. The GeO-Deck, which is 470 feet in the air, will be party headquarters where guests can experience a 360-degree view of Dallas.
For 40 years, locals have affectionately touted the "The Ball" as the heart of Dallas, and its outgoing persona has continued to grow. A brief look into the past shows the installation of energy-saving custom-designed LED lights and the grand opening of the GeO-Deck. However, the focus of Reunion Tower is fixed on the future with interactive exhibits and programming, which welcome new generations of visitors with opportunities to experience the 360-degree view in new and exciting ways. On Saturday, April 14 from 3:30– 5:30 p.m., the Dallas Cowboys Cheerleaders will be greeting guests on the GeO-Deck, and on Sunday, April 15 Ruthie's Rolling Cafe will be serving up their cheesiest favorites on the way into the Tower.
Throughout the weekend, Reunion Tower's iconic light show will signal the celebration. Friday at dusk, Reunion Tower Ambassador Burk Murchison will start the show, which will glow all weekend until Sunday evening when a re-creation of the very first Reunion Tower light show, from April 15, 1978, will run at 9 p.m.
Finally, all eyes will be on the sky when Reunion Tower's birthday gift to the city lights up the town. A brand new colorful light show will shine every Friday and Saturday beginning Friday, April 21. This new design puts a spin on the classic warm white lights that Dallasites see on many nights by adding a burst of color to welcome the weekend.
For more details about Reunion Tower's birthday festivities, visit reuniontower.com/events.