By Sujata Dand
White Rock Lake is calm on this Friday afternoon. The sun beats down on the young women's varsity team as they practice for their next regatta.
The cadence of the oars hitting the water is even. The White Rock Rowing boat is set. But, all it takes is one rower to be out of sync — one person to "catch a crab"— and the momentum is lost.
The rhythm at White Rock Rowing skipped a beat in January when the non-profit organization and club lost its head coach. Some say he was fired, others say he resigned. But, eventually two more beloved coaches left the program and with them — more than half of the young rowers.
"It was devastating," one parent said, who didn't want to be named. "My kids want to row in college. How do we stay on a ship that is sinking? We lost sleep over it. Their grades started slipping."
The entire boys' varsity team left the program except for one.
"They had placed 4th in Nationals. They had a goal to be one of the top three teams and the coach had promised to help them reach that goal. When he left, they eventually left," the parent said.
Sue Ellen Chambers is the president of White Rock Rowing. She didn't want to get into the details of the "personnel matters." But, she was forthcoming about the club's need to restructure.
"It was time for a change," Chambers said. She has served on the board for several years. Her daughter rowed for White Rock Rowing's girls' varsity team for four years.
"I don't believe we are a mature organization yet, but we will be." Chambers said.
However, Chambers may be fighting an uphill battle. Frustrated onlookers say this program has been mismanaged by the board for years. As Chambers shows off the enormous boat house, she talks about the organization's mission to get oars in the hands of Dallas youth. There are less than a dozen girls working out.
"This board has not been able to recruit and retain," Tamber Johnson said. Johnson is a master rower and boathouse captain, a volunteer position. Her daughter rowed for WRR from 2009 to 2014.
"All successful coaches build a real camaraderie, but it's a shame that the board manages to fumble that relationship. I have seen kids in tears at that boathouse a lot over losing coaches," Johnson said.
There have been 10 coaches in the last seven years. The organization is about to celebrate its 10-year anniversary.
"I feel responsible for this," Chip Northrup, a founding member of WRR said. An avid rower for more than 50 years, Northrup grew up in Highland Park. After rowing at Brown University, SMU and Wharton Graduate School, he returned to Dallas and founded rowing crews at Jesuit College Prep and Ursuline Academy before helping to build White Rock Rowing.
To understand the genesis of the coaching crisis at White Rock Rowing, Northrup says you have to understand the history of the club.
In 2004, Northrup, Keith Young, Jr., David Payne, John Mullen and Sam Leake established the White Rock Rowing Boathouse. The purpose of the non-profit organization was to give Dallas' young people access to rowing.
Three years later, WRBH, Inc. entered into a lease with the Dallas water department. The condition of the lease was that WRBH would pay to restore the Filter building and develop a boat house in place of the settling tanks.
Despite the global financial crisis, Northrup said he and the Mullens put up most of the 2.7 million dollars to meet the city lease funding requirement.
The boathouse was completed and opened officially as "The White Rock Boathouse" in 2008.
"We had a bunch of overbearing guys running a club," Northrup remembers. "As the club grew — the culture was overbearing."
Northrup said he made sure that the bylaws for the organization would exclude any external input. Board members would be self-selected and there were no term limits. In Northrup's words — they created — an "authoritarian" board.
"When we formed the club, I insisted that we appoint our successors [on the board]. I assumed that they would know as much about rowing clubs as we did — if not more."
Northup said this was his mistake. When he and Mullins left the board a few years later, Northrup said Sam Leake appointed novice rowers or people with no experience to the board.
"We ended up with a board or governance that is secretive, insular and because of lack of experience — inept," Northup said.
Northrup said he approached his friend Leake a few years ago. "But, by that time his methodology had hardened. It is absolutely terrible what they do to these coaches and how they nit-pick them and humiliate them in front of their crews. It's by people who have never rowed on a team before."
Next to the boat house sits the beautifully renovated Filter building. The popular event venue's rental income provides revenue to support White Rock Rowing's youth and adaptive programs as well as direct financial aid to those in need. Unlike most rowing clubs, WRR doesn't have to rely on member dues to survive. Northup says that's a problem.
"They can afford to do that," Northup said. "They are not dependent on member dues to pay the rent. They don't have to be accountable to anyone."
After three coaches left this year, a group of parents and adult rowers affiliated with WRR banded together to create a new group called Friends of White Rock Rowers. They presented a petition with more than 70 signatures requesting new bylaws, a new board and greater parental input.
"A board needs to be a living, growing entity and respond to the community," Johnson said.
Some of the board members took the petition to heart. Over the next several weeks, four of the board members, including founder Sam Leake, resigned.
"I think people who have resigned from the board —  all of them had been here from the very beginning — and I think they really felt like it was time to resign their position and let us go through the process of restructuring and building the board back and building it in a larger more significant way," Chambers explained.
In early March, Chambers said the board hired a consultant to help restructure the organization. Chambers said the consultant has already suggested term limits for board members, increasing the board size and creating elections.
"I do think from our members' point of view that they have a different idea of how it should happen. Everyone has a different perspective and everyone has a different idea of how it should be run. One thing about rowers is that you are almost guaranteed to get a lot of large number of type A +++++ people gathered together because its highly technical and it takes a lot of training," she laughed. "So, I think that some of it is just having the patience to let us do the work that needs to be done. And, I feel like that's where some of the uprising comes from. That they want it done overnight."
Chambers agrees that they need to do a better job retaining coaches. She said the consultant suggested a management person who would oversee the coaching staff, creating separation between the coaches and the board.
"We need that person. And, that person isn't really a coach. That person oversees the coaching personnel. He directs them. He's the guy that implements the strategic vision of the board and helps the board develop a strategic vision as well," said Tom Ellis, a board member for three years.
"What we are doing now, with the help of this consultant, is that we are creating that organizational and operational structure that will provide us not only the ability to operate internally as an organization of this size should, but will also provide the organizational structure to really present ourselves to the community in a very different way and not a sleepy organization on the lake," Ellis said.
A core group of families have stayed at WRR. Geoff Haerle said it's because they believe in the mission of the organization.
His daughter rows for the varsity team.
"We believe in the foundation and the current staff of coaches," Haerle said. "We wanted to stay because this is the only club my daughter wanted to be a part of."
One of the parents who had a child leave WRR echoed Haerle's sentiments. Her daughter now rows for another organization, but misses the close knit, familial feel of the club.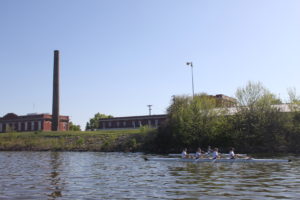 She says of the board, "They never considered how this was affecting the kids."