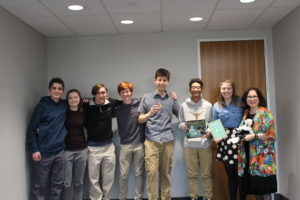 By Gigi Ekstrom
Members of Lakehill Preparatory School's Shakespeare and Friends Club competed in the school's third English-Speaking Union (ESU) National Shakespeare Competition on Jan. 24. Seniors Reese Brown and Warren Lester, junior Justin Reed, sophomores Elizabeth Blanchard and Jonah Shaw, and freshmen Asher Chamoy and Keegan Clendenin each performed a 20-line monologue from a Shakespeare play to judges Julie Riggs and Mark Guerra.
Brown took first place, impressing the judges with her performance of Cleopatra from "Antony and Cleopatra." Second place went to Shaw, who performed Enobarbus, also from "Antony and Cleopatra," and will serve as the alternate. Chamoy finished third, performing Claudio from "Measure for Measure."
The ESU National Shakespeare Competition is a performance-based education program in which high school students nationwide read, analyze, perform and recite Shakespearean monologues and sonnets.
Approximately 2,500 teachers and 20,000 students in nearly 60 ESU Branch communities participate each year.
Lakehill's competitors worked throughout the first semester during Shakespeare and Friends, an Upper School club sponsored by Elizabeth Schmitt. "Every year, as I coach the students through their speeches, I enjoy watching the process of them go from just saying the words, to understanding them, to embodying the characters they are portraying. The pieces chosen this year challenged them which allowed me to utilize techniques to guide them that I learned at the Folger Shakespeare Library workshop I attended in the fall."
"I am passionate about Shakespeare, and I love spending time with my friends. Shakespeare Club brings both of these things together," Brown explained. "It truly is an honor to be able to represent my peers, and to have been able to perform alongside them for our classmates and teachers."
Brown will represent Lakehill at the local ESU Dallas Branch Competition on Feb. 24 at Highland Park High School. In addition to her monologue, she will also memorize and recite one of Shakespeare's 154 sonnets.
The local winner will be awarded an all expense paid trip to New York City (underwritten by the Dallas Branch of the English Speaking Union) for the National Competition, held at Lincoln Center. National Competition prizes include a scholarship to study acting in England, Shakespeare's homeland.